Greetings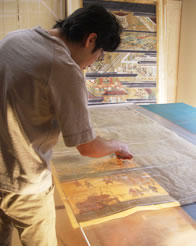 Our mission is to restore and protect the masterpieces of Japanese art which have artistic, historic and archaeological value by using "Kyo-Hyogu" technique.
"Kyo-Hyougu" is the methodology of traditional mounting and requires advanced skill. It was developed in Kyoto, one of the most ancient and historic places in Japan.
We restore scrolls, hanging scrolls, folding screens, sliding doors and interior decorations with the utmost care and attention.
We will transform unmounted calligraphies or paintings to a new original scroll or framed art according to your request in a timely manner.
We have a unique selection of original "Neo-Japanesque" art, which is produced by effectively using the "Kyo-Hyougu" technique.
Request
If you are interested in our work, please contact as by e-mail.
Mail Address:info@eihoudou.com
Company profile
| | |
| --- | --- |
| Company name | Eihoudou |
| President | Ei Sakamoto |
| Address | 1585-2, Tanushimarumachi Toyoki, Kurume-shi, Fukuoka, 839-1234 , Japan |
| Tel & Fax | 0943-72-0109 |
| Business hours | 9 a.m. to 5 p.m. |
| Closed | Sunday and holidays |